The First Alabama Space & Rocket Center Brochure
While looking through the Konrad Dannenberg Collection at the archives of the University of Alabama at Huntsville I happened upon a brochure for the Alabama Space & Rocket Center, the original name of the U.S. Space & Rocket Center.
I believe that this was likely the very first promotional brochure for the ASRC: This brochure contains a quote from Wernher von Braun from March 17, 1970, and the back cover contains the admission rates (40 cents for children and $1.25 for adults!), which are "effective thru December 31, 1970." Since the ASRC was dedicated on March 17, 1970, I assume that this brochure was issued shortly thereafter (unless, of course, von Braun's remarks were prepared ahead of time, in which case this brochure may well have been available at the ASRC's opening).
This brochure appears to have been prepared before aerial photos of the Rocket Park were available: Rather than a photo or drawing of the actual Rocket Park, the centerfold map contains a what appears to be photo of a model of the ASRC.
This model shows a much more ambitious display than was actually built. It shows a cluster of rockets and missiles including the V-2, Jupiter, Juno II, Army Redstone, Jupiter-C, and Mercury-Redstone. Other than the V-2 (which has subsequently been restored and is displayed indoors), this cluster of rockets is still present in the same configuration in the Rocket Park.
The model additionally shows a Saturn IB with umbilical tower (rather than the towerless Block II Saturn I which is actually present).
There's a second cluster of rockets and missiles, located south of the existing cluster. This cluster appears to contain a Thor-Able (or an early Delta), a vertically-displayed Mercury-Atlas (although the Rocket Park does host a horizontally-displayed Atlas F), what appears to be some sort sounding rocket, a vertically-displayed Titan II (although the Rocket Park formerly had a horizontally-displayed Titan II) and some sort of rocket with large, strap-on solid rocket boosters (perhaps a Titan IIIC?).
And the Saturn V was displayed in the Rocket Park as a single, integrated vehicle (including its interstages). The Saturn V was actually displayed without its interstages (allowing inspection of the second and third stage engines, which makes for a far more interesting display).
Proceed to download links.
For more information and documents from the USSRC's history, see my early Alabama Space & Rocket Center souvenir booklet, my Official Guide to the Alabama Space & Rocket Center brochure, my Vintage USSRC Photos page, and my Political Career of Sigma 7 page. Also see Hab1.com, which has a couple of additional ASRC brochures: one, two.
Here are some sample pages from the brochure: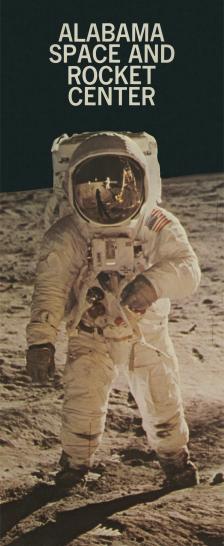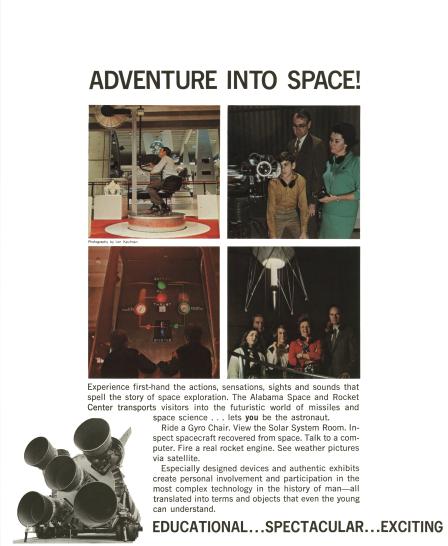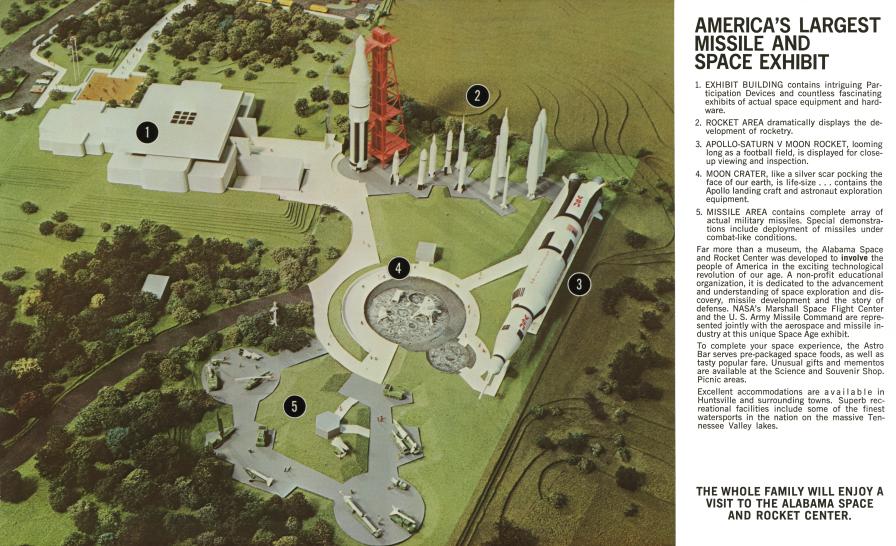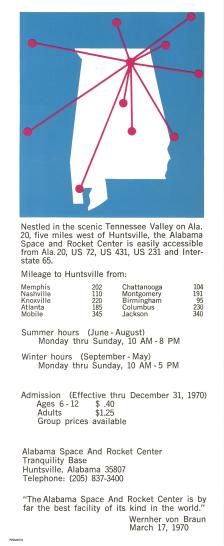 I've prepared three PDFs:
A web-resolution PDF; 572k. View now.
A medium-resolution version for general use; 1.7 megabytes. Download now.
A full-resolution version for archival purposes; 33 megabytes. Download now.