"Official Guide" to the Alabama Space & Rocket Center
I have in my collection an early brochure from the Alabama Space & Rocket Center, the original name of the U.S. Space & Rocket Center.
This brochure seems to date from shortly before 1973. It makes reference to the Skylab program without explaining what it is, and refers to an "uprated" Saturn I launching astronauts to Skylab in 1973 for missions of 28 and 56 day duration. The third manned Skylab mission, launched in late 1973, was extended from its originally-planned 56 days to 84 days.
Rather than being a photo "souvenir" type brochure, this brochure contains a map of the museum and Rocket Park, along with a detailed description of each artifact.
Still proclaiming that the Center "LETS YOU BE THE ASTRONAUT", the initial paragraphs of the brochure elaborate
Only a few privileged few have had the rare opportunity to walk on the moon, but the ever expanding Alabama Space and Rocket Center gives us earthlings this experience under simulated conditions.

The Alabama Space and Rocket Center, Earth's largest space exhibit, is "dedicated by the citizens of Alabama to those Americans who have made it possible for man to walk on the moon and to explore the universe; and to the youth of America who will use the technology of space for the benefit of mankind."

Far more than a museum, the Center is devoted to the advancement and understanding of space exploration, discovery, and rocket development. NASA's Marshall Space Flight Center and the U.S. Army Missile Command are represented jointly with the aerospace and missile industry at this unique space age exhibit. The Center is a self-sustaining facility owned and operated by the State of Alabama. The Center's emphasis is on experience and participation. You can see, handle, operate and learn by doing much of what the Center seeks to tell. The Center LETS YOU BE THE ASTRONAUT as you experience the sights, sounds and sensations of space travel.
For more information and documents from the USSRC's history, see my First Alabama Space & Rocket Center Brochure, my early Alabama Space & Rocket Center souvenir booklet, my Vintage USSRC Photos page, and my Political Career of Sigma 7 page. Also see Hab1.com, which has a couple of additional ASRC brochures: one, two.
Proceed to download links.
Here are some sample pages from the brochure: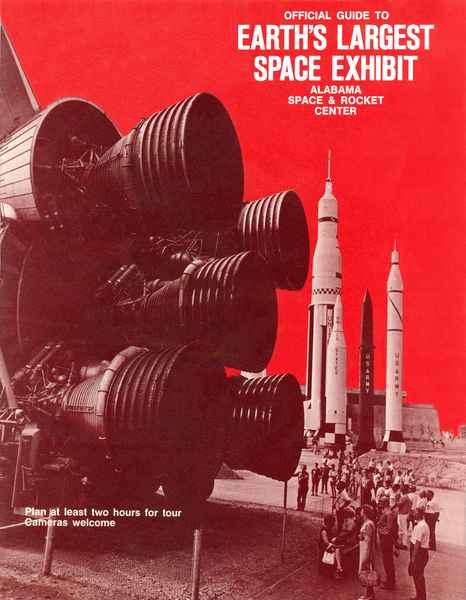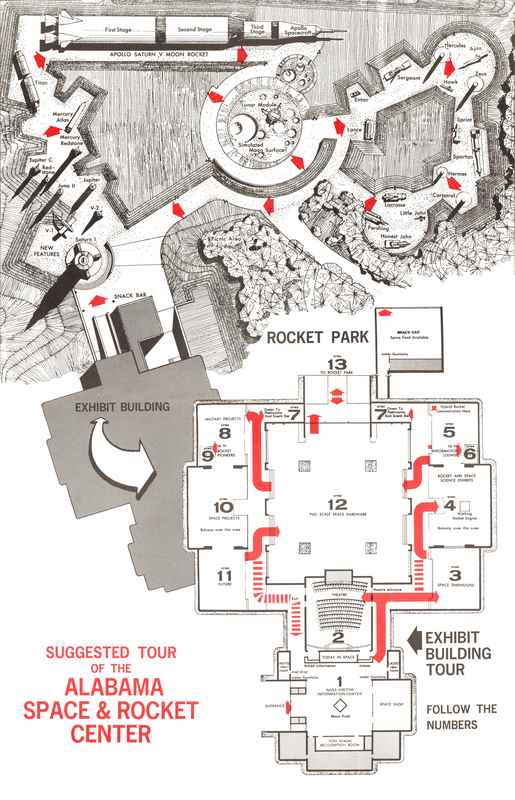 I've prepared three PDFs:
A web-resolution PDF; 2.3 megabytes. View now.
A medium-resolution version for general use; 3.3 megabytes. Download now.
A full-resolution version for archival purposes; 21 megabytes. Download now.