AS-509 Launch Vehicle Operations: Saturn V Fill and Drain
During one of my visits to the University of Alabama in Huntsville archives, I happened upon the Launch Vehicle Operations for Support of Space Vehicle Countdown Demonstration Test and Launch Countdown, Volume II of III (Assembled for CD), Released for AS-509 in a box in the Mauldin collection.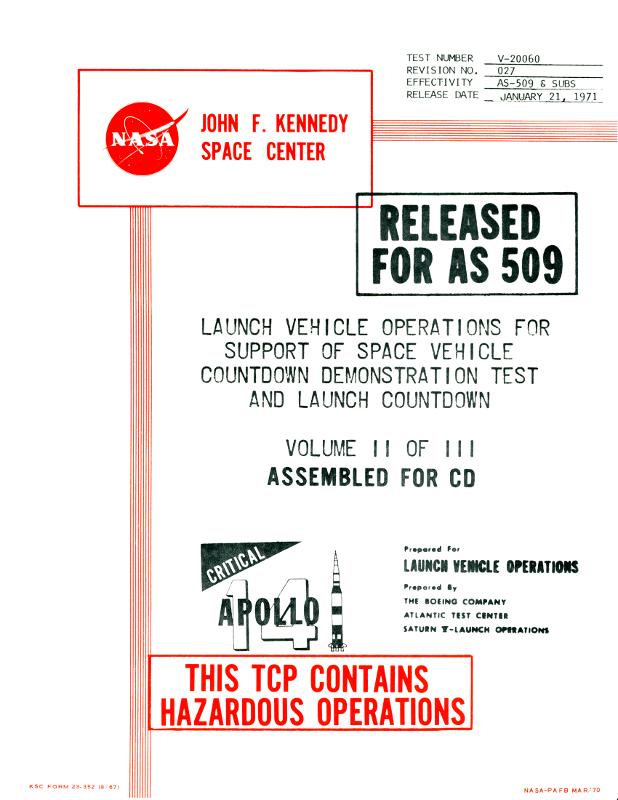 As the length of its name implies, this is a very thick volume, unaccompanied by either Volume I or Volume II in the archive, and similar in content (and in the low quality of the master copy from which this copy was printed) to my Saturn I Countdown Manual Volume II, SA-7. It contains detailed instructions for preparing a Saturn V for launch.
I didn't have the time or inclination to scan the entire volume (which, even if I had scanned the entire document, would have been incomplete without Volumes I and II). However, I did scan the sections documenting the procedures used to fill the tanks of the three Saturn V stages with cryogenic propellants and the corresponding drain operations, the latter used during the Countdown Demonstration Test (CDDT) and in the event of a launch scrub.
Tanking operations began at T-8:15 with LOX loading, sequentially, of the S-IVB, S-II, and S-IC stages, followed by LH2 loading of the S-II and finally the S-IVB stage, completing with the S-IVB stage's liquid hydrogen tank being at 100% at T-3:38.
Detanking was a much quicker affair: The S-II LH2 drain process began at +0:05 and was complete by +0:54; the S-IVB LH2 process, oddly, took longer to complete, from +0:06 to +1:15. S-IC LOX drain started at +0:10 and took two hours to complete. S-II LOX drain started at +0:32 (when LH2 detanking was at approximately 50% complete) and completed at +1:30; S-IVB LOX drain started upon the completion of S-II LOX drain and completed 40 minutes later, at +2:10.
I've prepared two versions of this PDF:

A web-resolution PDF for the casual visitor; 9.2 megabytes. View now.
A standard-resolution version for study; 30.9 megabytes. Download now.