AS-207 Vehicle Systems Information Drawings
I have in my collection a series of engineering diagrams entitled "AS-207 Vehicle Systems Information Drawings". This 8½&quot x 11" booklet primarily consists of fold-out pages, ranging in size from 24&quot to just over 41". The drawings include
Apollo-Saturn Vehicle Configuration (Drawing # 60C00721 Rev. A)
Apollo-Saturn Vehicle Inboard Profile (Drawing # 60C00722 Rev. A)
Apollo-Saturn Vehicle to GSE Information (Drawing # 60C00723 Rev. A)
Apollo-Saturn Vehicle Access Provisions (Drawing # 60C00724 Rev. A)
Apollo-Saturn Vehicle Antenna Arrangement (Drawing # 60C00725 Rev. A)
Apollo-Saturn Vehicle Handling & Transportation (Drawing # 60C00726 Rev. A)
S-IB Stage Assembly Layout, Apollo-Saturn (Drawing # 60C00727)
S-IVB stage Assembly Layout, Apollo-Saturn (Drawing # 60C00728)
IU Assembly Layout, Apollo-Saturn (Drawing # 60C00729)
Payload Assembly Layout, Apollo-Saturn (Drawing # 60C00730 Rev. A)
S-IB Stage Hazardous Materials, Apollo-Saturn (Drawing # 60C00731)
S-IVB Stage Hazardous Materials, Apollo-Saturn (Drawing # 60C00732)
Payload Hazardous Materials, Apollo-Saturn (Drawing # 60C00733 Rev. A)
Saturn IB Vehicles Nomenclature Chart (Drawing # 10M03604 Rev. F)
Saturn IB Vehicles Information Drawing (Drawing # 10M03681 Rev. H)
The latest drawing revision appears to be dated July 25, 1966, so the information included in the booklet pre-dates the Apollo 1 fire and includes a number of Block I spacecraft launches, four (four!) unmanned Lunar Module launches, and Saturn IB launches up to AS-212 (of course, AS-210 was the last Saturn IB launched; AS-209 was reserved for a potential Skylab rescue mission and served as the ASTP backup booster, was never launched, and now resides in the KSC Rocket Garden; and AS-211 -- or at least its first stage -- resides at the Ardmore Welcome Center, off of I-65, just south of the Tennessee/Alabama border).
For those of you who think that this set of drawings sounds familiar, heroicrelics contributed the full-sized version of these drawings to the bonus DVD of Alan Lawrie's Saturn I/IB book.
Proceed to download links.
Here are a few of the highlights from the booklet: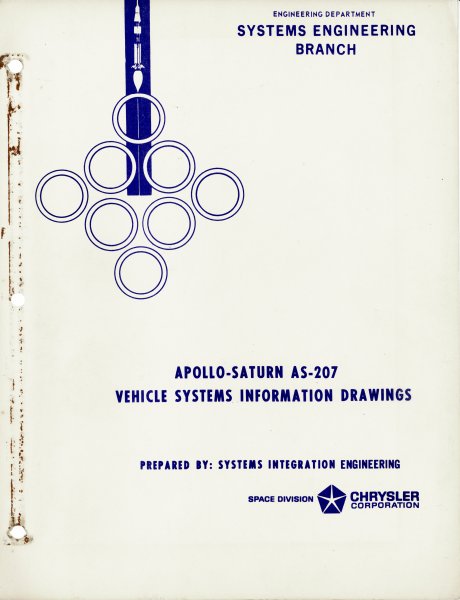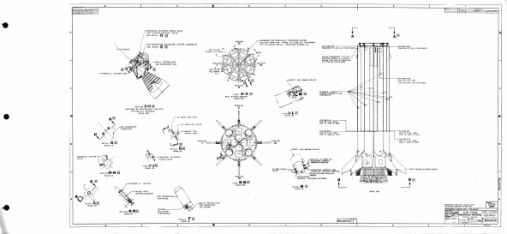 I've prepared three PDFs:
A web-resolution PDF for the casual visitor; 6 megabytes. View now.
A 300-dpi version for serious study; 55 megabytes. Download now.
A 600-dpi version for those of you out there with really beefy PCs and like to zoom in to 800%, or want to go to your local copy shop and print up a copy of your own, or even want to blow some drawings up to the size of your wall; 155 megabytes. Download now.