Launch Complexes 39A, 39B, 39C, and 39D
When Launch Complex 39 was initially being designed, it was not yet decided exactly how the U.S. would be getting to the moon, how many launches would be required for a moon mission, or how large the rockets would be. As such, the LC-39 designers erred on the side of caution, designing a launch complex which would be able to accommodate any reasonable launch rate and could be expanded for an even higher capacity.
Prior to July 1962, the lunar mission "mode" had not yet been decided. The leading candidate was earth-orbit rendezvous, where two or more rockets would be launched, rendezvous in earth orbit, assemble the lunar spacecraft, and proceed to the lunar surface; this method would require a fairly high launch rate per mission.
I have a pamphlet dating back to perhaps early 1963, which was a time of real excitement and optimism about the program. The pamphlet touts that "[f]our launches of the Saturn V are currently scheduled for 1966, and six are planned for 1967." After the first launch in "early 1966", operational launches would occur "about two years later"; goodness only knows what the operational launch rate would be.
With such a high launch rate, a large launch complex with several launch pads would certainly be required, and this pamphlet shows early concept, where LC-39 had four launch pads (presumably adding LC-39C and LC-39D to the two pads, LC-39A and LC-39B, which were actually built). Note the "kink" along the route to the north-most pad; presumably, this would allow the eventual addition of yet another launch pad! LC-39E, anyone?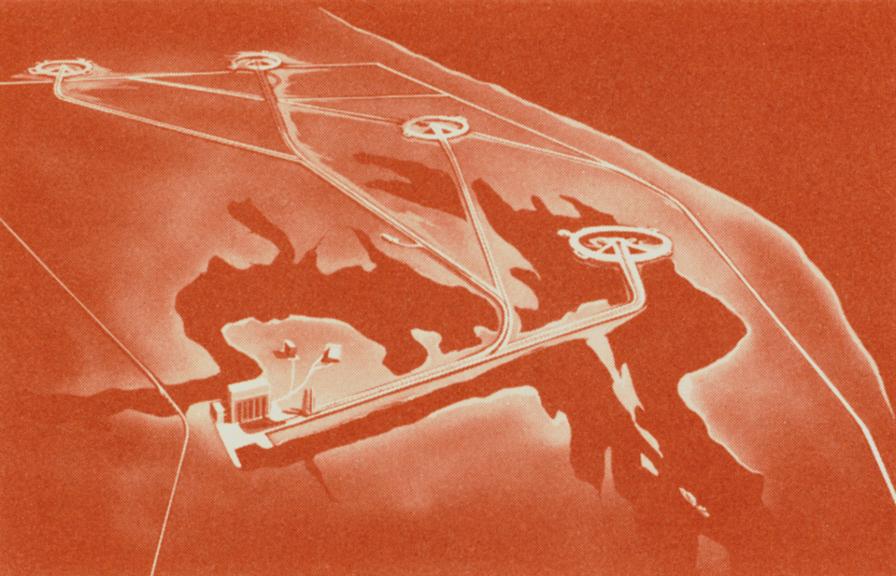 As time went on and lunar orbit rendezvous (in which a single rocket launched two, specialized spacecraft, one which was optimized to actually land on the moon and a second spacecraft, the only one which would carry the heavy heatshield required for Earth reentry, would remain in lunar orbit and await the lunar module to rendezvous with it after leaving the lunar surface) was chosen (and budget realities set in), plans for the launch complex were scaled back to meet the projected need.
This diagram shows the results of the initial scale-back of LC-39: It shows only three launch pads, with LC-39D drawn with a dotted line (presumably to indicate that such a facility could be built if required). This diagram was taken from a document dated February 1966, far too late to still show to even Pad C. In fact, that same document also has a similar diagram, but showing only Pad A and Pad B – with Pad C not represented at all, even by a dotted line.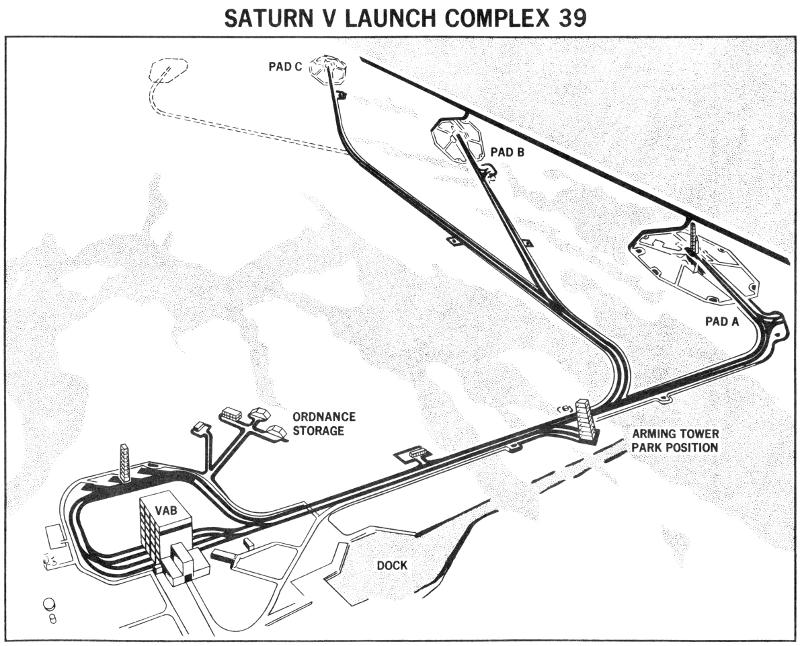 While I've read that LC-39 was still to have three pads when construction began and seen photos of a warning system which included Pad C, Pad C was never to be. However, Pad C did earn the honor of launching the first Saturn V (if only on the the cover of Life magazine):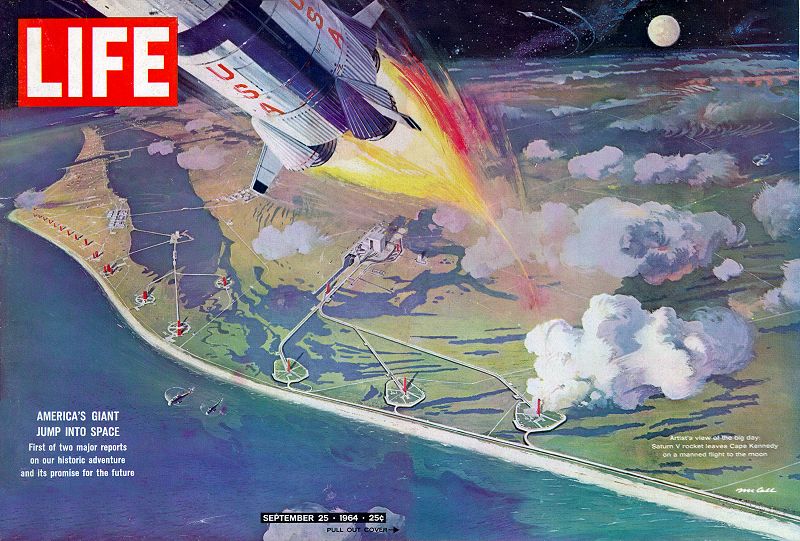 These discussions of LC-39D, with Pad D being the north-most, do raise some questions. Apparently, standard Missile Test Center practice was to designate the launch pads from north to south, with "A" being the north-most. When construction began on the the current Pad A (i.e., the south-most pad), it was at the time designated "Pad C", in accordance with this practice (the pads were redesignated with Pad A being the south-most pad in January 1963). So, it would seem that plans for Pad D must have been dropped before construction began (since the south-most pad was initially designated "C"), and the south-to-north progression of pads should have gone no farther than Pad C. The appearance of Pad D must simply reflect wishful thinking.
Of course, Apollo 4, the first Saturn V launch, didn't actually occur until November 9, 1967. Other than 1969 (which did see the launch of four Saturn Vs), the launch rate was only one or two a year throughout its 1967-1973 operational period. Only two launch pads at LC-39 were actually built.