Welcome to Cape Kennedy Air Force Station
I have in my collection a booklet from a self-guided driving tour of Cape Kennedy Air Force Station (today the Cape Canaveral Air Force Station) of the Atlantic Missile range.
While undated, the Stephen Smith of the Space KSC Blog tells me that Brig. Gen. Harry J. Sands, Jr. (who proveded the "welcome" at the beginning of the booklet) was commander of the Atlantic Missile Range from January to July 1964, which dates the booklet to a very specific range.
The booklet describes the sights to be seen as one drives along the tour route, including a photo or two on each page to assist the visitor in locating each landmark. The back page of the booklet includes an overall map of Cape Kennedy Air Force Station, including "Missile Row", the launch complexes used to test the various missiles.
One page contains an inadvertently funny comment, about how test ending in the Range Safety Officer terminating the flight "is not a common occurrance", happening for only "one out of every 15 [missiles or rockets] launched."
Proceed to download links.
The landmarks described in the booklet include
Port Canaveral, where the USS George Washington was equipped with Polaris submarine-launched ballistic missiles.
Azusa Mark II radar station.
AMR tracking station and liquid oxygen plant.
Pershing missile complex.
Polaris ground launching stands.
Jupiter complex.
Thor missile complex.
Blue Scout launch complex.
Minuteman ICBM area.
Hangar C, check-out hangar for the Mace cruise missile and the Mace hardsite.
Cape Canaveral lighthouse.
Launch Complex 36-B, the Atlas-Centaur complex.
Launch Complex 14, from which the Mercury-Atlas flights were launched.
Launch Complexes 12 and 13, from which Atlas-Agena missions (including Mariner) were launched.
Launch Complexes 15 and 16, used to launch Titan II ICBMs, as well as LC-19, from which the Project Gemini flights were launched.
LC-20, used to launch Titan IIIs.
TLM-18 Telemetry Receiving Antennas.
Central Control Building, the "never center for the entire range."
Hangar S, which provided living quarters for the Project Mercury astronauts during their stay at the Cape prior to a manned space launch.
Fire and police stations, operated by Pan American World Airways.
LC-5/6, from the the Mercury-Redstone flights were launched.
I've included thumbnails of the booklet's cover: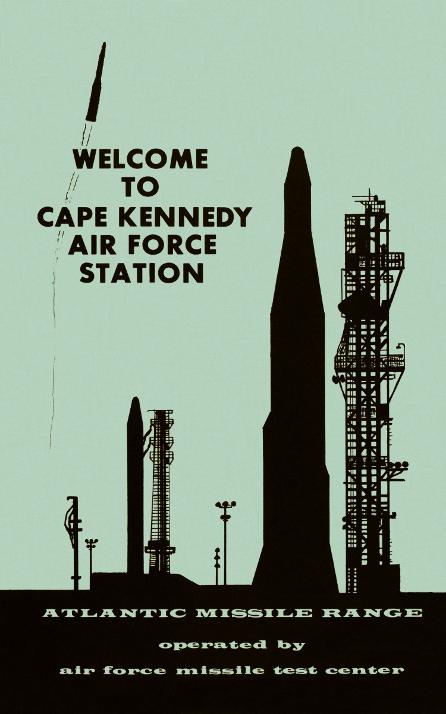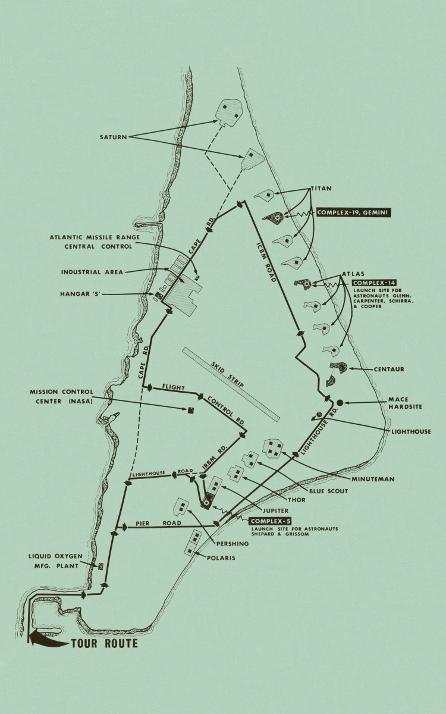 I've prepared three PDFs:
A web-resolution PDF for the casual visitor; 1.7 megabytes. View now.
A 300-dpi version for serious study; 4 megabytes. Download now.
A 600-dpi version for those of you out there with really beefy PCs and like to zoom in to 800%, or want to go to your local copy shop and print up a copy of your own; 41 megabytes. Download now.