General Apollo Command/Service Module Diagrams
I come across many Command/Service Module diagrams which, while interesting, are not so interesting that they necessarily merit their own separate page. I have created this page as a repository for such diagrams.
The beginning of the Apollo Spacecraft News Reference [Command/Service Module] features a three-page fold-out of a cutaway diagram of the Apollo Command/Service Module: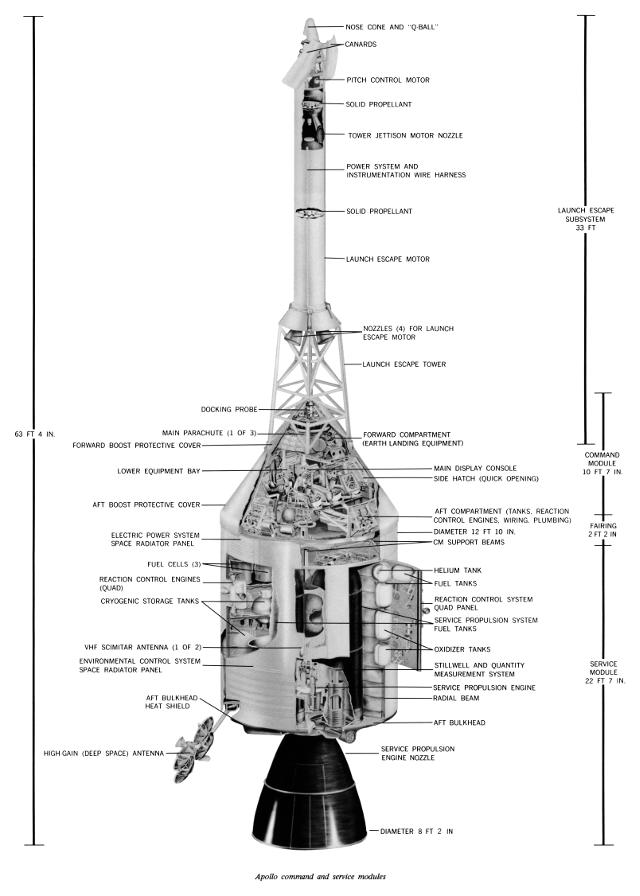 The diagram notes that the entire CSM, from the tip of the launch escape tower to the exit plane of the Service Propulsion System engine, is 63 feet, four inches tall. The Launch Escape Subsystem is 33 feet tall, with the Command Module being 10 feet, seven inches. The fairing between the Command and Service Modules is two feet, two inches, and the Service Module proper is 22 feet, seven inches (the launch escape tower legs overlap the command module, so the four subsystem measurements don't add up to the 63'4" overall value).
The callouts on this diagram include
Main Parachute (1 of 3)
Forward Boost Protective Cover
Lower Equipment Bay
Aft Boost Protective Cover
Electric Power System Space Radiator Panel
Fuel Cells (3)
VHF Scimitar Antenna (1 of 2)
Environmental Control System Space Radiator Panel
Aft Bulkhead Heat Shield
Nose Cone and "Q Ball"
Solid Propellant
Tower Jettison Motor Nozzle
Power System and Instrumentation Wire Harness
Solid Propellant
Launch Escape Motor
Nozzles (4) for Launch Escape Motor
Launch Escape Tower
Forward Compartment (Earth Landing Equipment)
Side Hatch (Quick Opening)
Aft Compartment (Tanks, Reaction Control Engines, Wiring, Plumbing
Diameter 12 ft 10 in
CM Support Beams
Helium Hank
Fuel Tanks
Reaction Control System Quad Panel
Service Propulsion System Fuel Tanks
Oxidizer Tanks
Stillwell and Quantity Measurement System
Radial Beam
Aft Bulkhead
Diameter 8 ft 2 in
I've prepared several versions and formats of this drawing: