SR-71 AG-330 Start Cart
The J58 engine used by the SR-71, A-12, and YF-12A aircraft required an external starter in the form of the AG-330 start cart.
Early versions of the start cart used two Buick "Wildcat" 401 cubic inch V-8 engines (later versions used a Chevrolet engine). The two Buick engines, tied together via a gearbox and combined to produce over 600 horsepower, drove a probe, or vertical shaft, which engaged the J58's engine starter drive pad to spin up one aircraft engine. Once the engine hit 3,200 RPM, it was ignited using a shot of triethylborane or TEB, a pyrophoric liquid (one which ignites spontaneously with oxygen). Interestingly, the F-1 rocket engine was ignited with a mixture of 85% TEB and 15% triethylaluminum (TEA).
Starting an SR-71 or related aircraft required two start carts, one for each engine (although the engines were started one at a time). A start cart was maneuvered into place, its vertical shaft was inserted into an opening in the engine nacelle to engage with the start pad, the engine spun up and ignited, and the start cart was disengaged. A YouTube video seems to show that the ground crew then installed a panel over the opening and screwed it into place.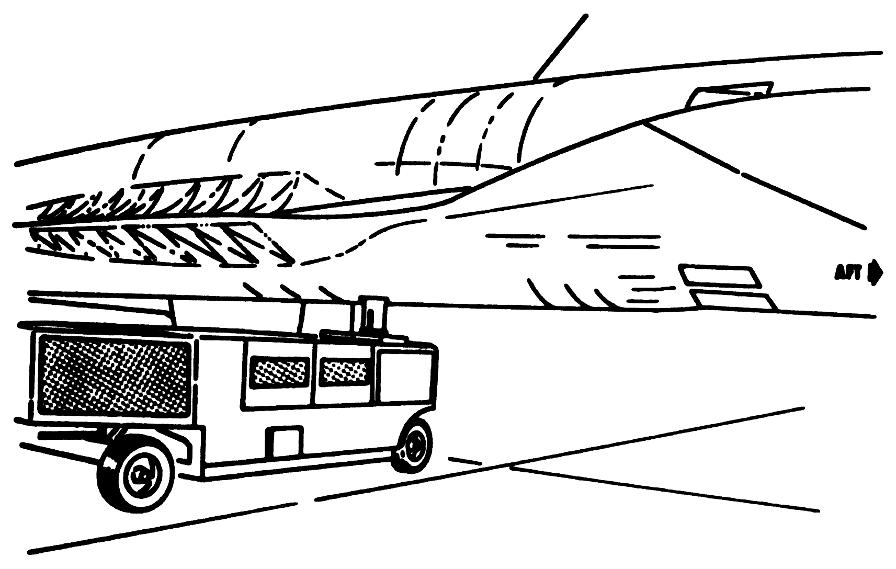 Once one engine was up and running, the other engine was started in a similar fashion.
Prior to finding the video above and by special permission of the curator, I inspected the underside of the A-12 at the U.S. Space and Rocket Center. I was unable to find anything that looked like a door or similar opening under the engine nacelle; all such panels were screwed in place. At the time I dismissed the idea of screwing a panel in place while the J58 was operating, figuring that the engine would be too hot to do so.
The diagram below shows the location where the start cart would be positioned, as well as several features of the start cart itself.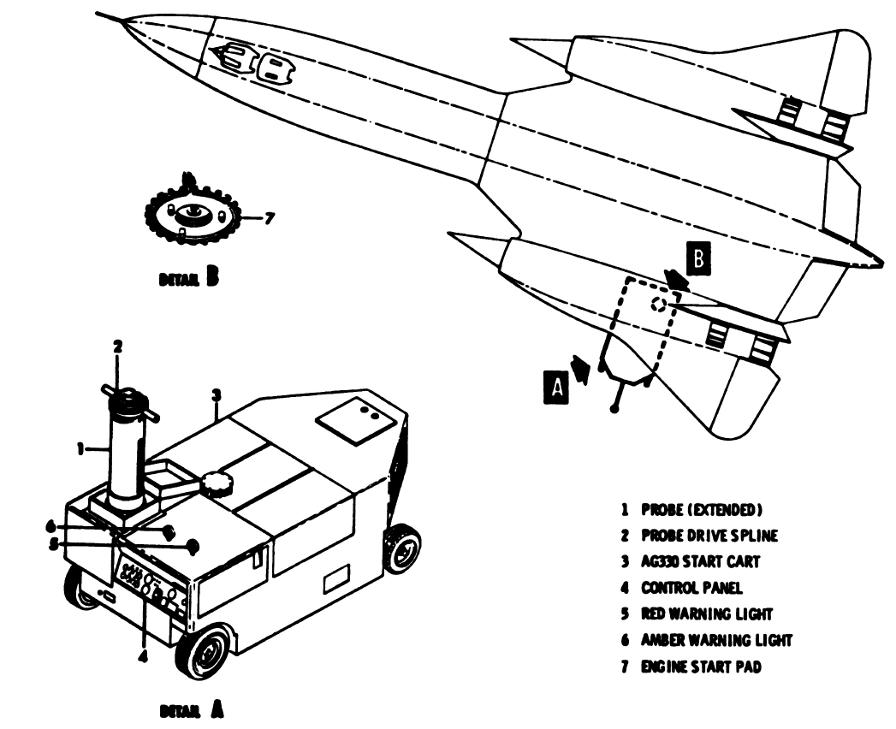 Although the diagram above shows the start cart situated about half-way back the engine nacelle, the forward part of the nacelle houses the spike, inlet, and bypass doors. The starter drive pad located is toward the forward part of the engine itself: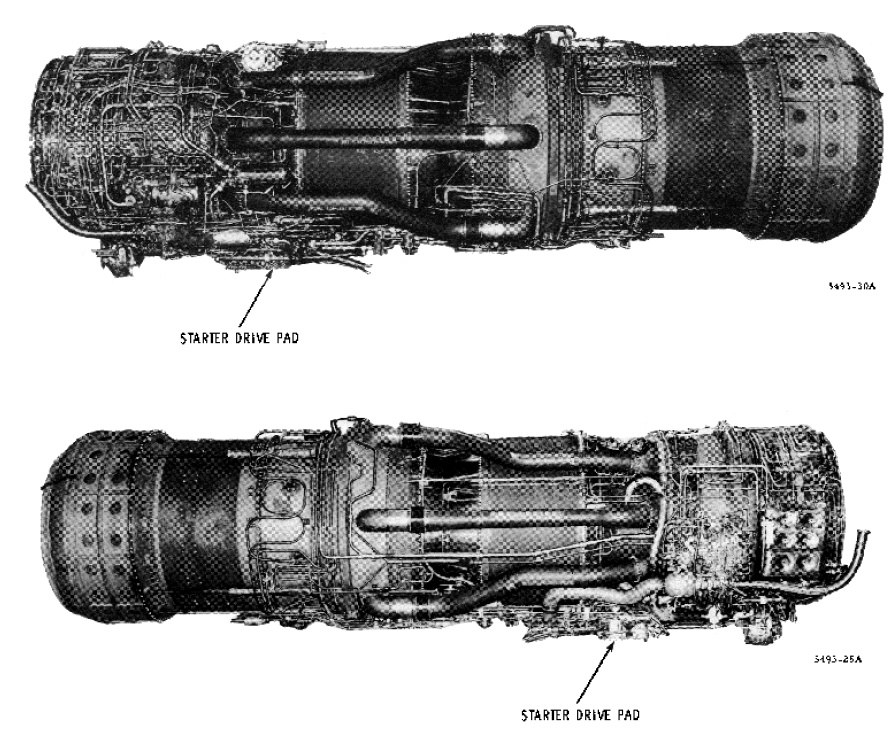 The start drive pad is the left-hand brass component on the bottom of the engine at center in this photo; the rectangular oil pan at right is on the forward end of the engine.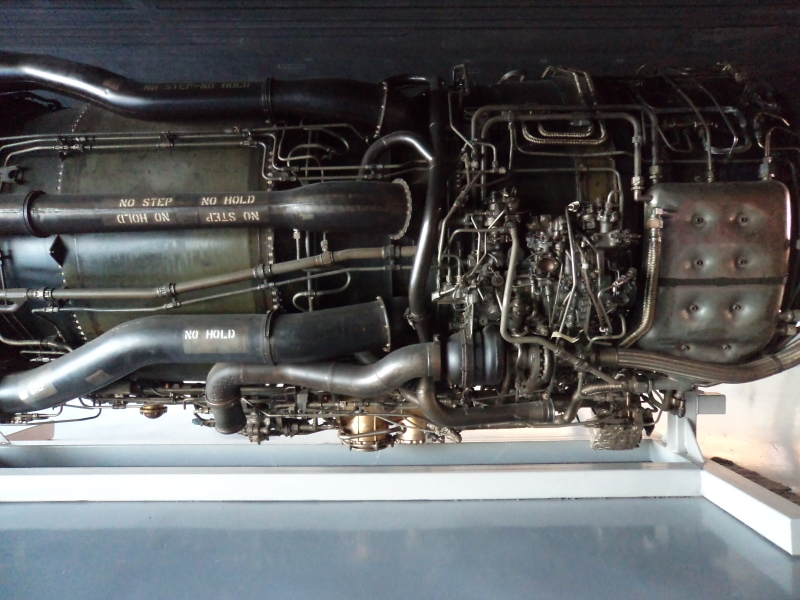 Taken from the opposite side of the engine, the face of the starter drive pad: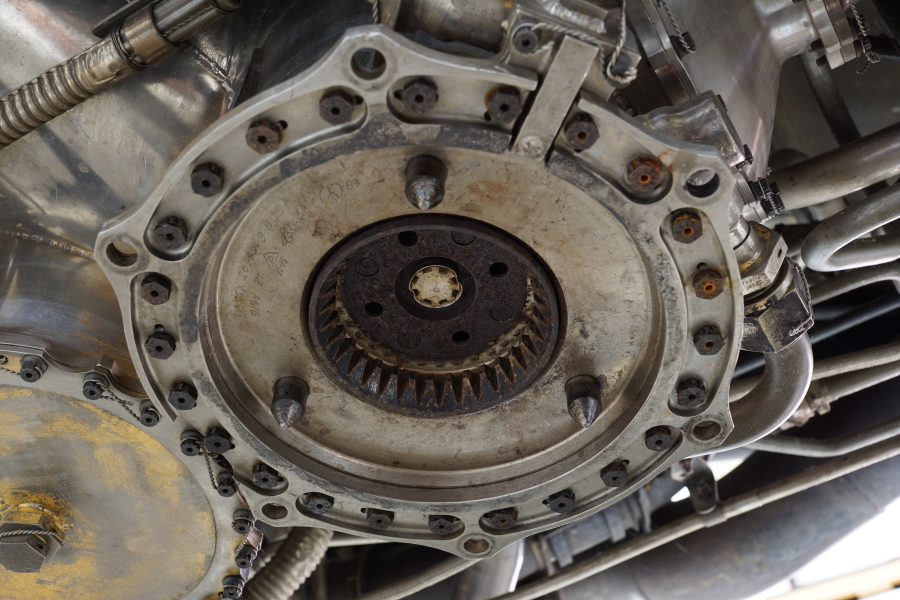 The three studs on the outer portion of the drive pad insert into holes in the start cart's probe drive spline and the teeth on the engine's drive pad mesh with the teeth on the tear at the center of the cart's drive spline: