Saturn First Stage: Workhorse of Present -- Future
I have in my collection a pamphlet published by the Chrysler Corporation Space Division manual entitled Saturn First Stage: Workhorse of Present -- Future. After manufacturing 8 flight stages, Marshall Space Flight Center turned the manufacture of the Saturn I first stages to CCSD. Chrysler converted a mothballed tank manufacturing plant near New Orleans into the Michoud Assembly Facility and there built the first stages of the last two Saturn I flights (SA-8 and SA-10; note that the MSFC-manufactured SA-9 was ready to fly before CCSD's SA-8, and so these two missions were launched out of sequence) and all of the Saturn IBs.
While it may seem strange for an automobile manufacturer to be building rockets, Chrysler actually had experience in this area: Chrysler manufactured two of America's first ballistic missiles, the Redstone and Jupiter, in their Sterling Heights Assembly Plant in Sterling Heights, Michigan. Modified Redstones launched Explorer I, America's first satellite, as well as the early Mercury flights, including America's first two astronauts in Freedom 7 and Liberty Bell 7. A Jupiter missile flew Miss Able and Miss Baker, two squirrel monkeys, into space and back, becoming America's first animals to travel into space and return safely.
Today Chrysler no longer seems to be involved in aerospace, although they did recently signed an agreement with NASA to allow "Chrysler Group and NASA to tap into existing and emerging space exploration and automotive technologies. The shared knowledge will be used in their respective activities." The press release indirectly refers to Chrysler's Saturn heritage, referring to building "boosters to power the first two Apollo spacecraft into earth orbit, including the program's first manned mission in 1968." Included are links to two seldom-seen photos of SA-206, the launch vehicle for SL-2, the first manned Skylab mission. allpar.com, a Chrysler fan site, has several pages on Chrysler's missilery and rocket days.
Proceed to download links.
Here are the thumbnails from the pamphlet: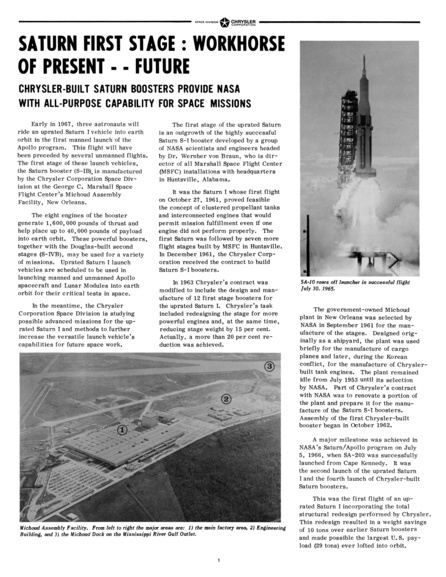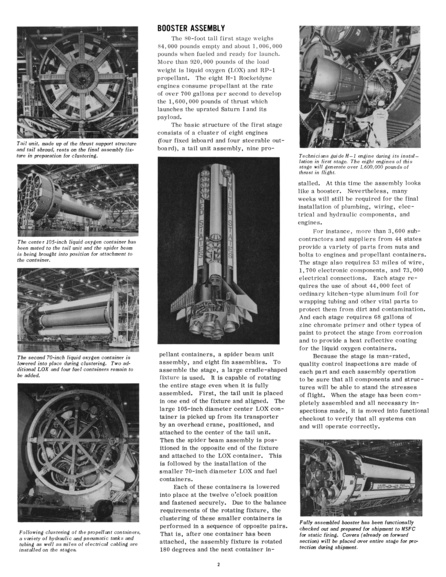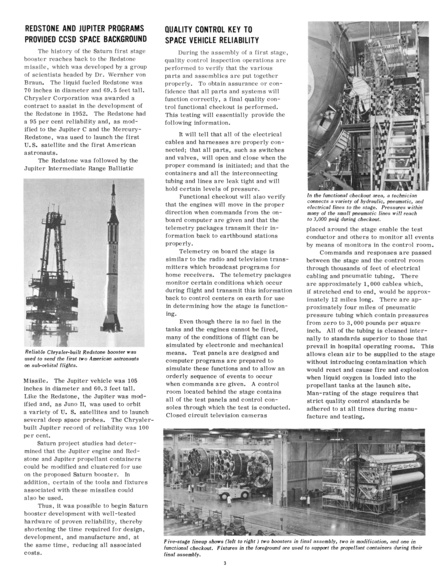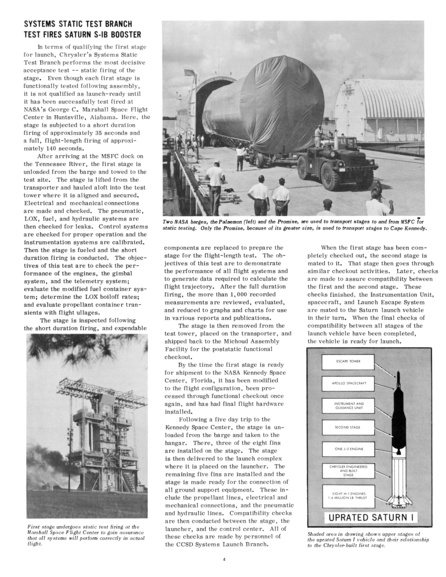 I've prepared three PDFs:
A web-resolution PDF for the casual visitor; 1.3 megabytes. View now.
A 300 dpi version for serious study; 8.3 megabytes. Download now.
A 600 dpi version for those of you out there with really beefy PCs and like to zoom in to 800%, or want to go to your local copy shop and print up a copy of your own; 33 megabytes. Download now.