Rocket Team at Fort Bliss
This is one of two photographs taken in March 1946 of the Rocket Team members when they were stationed at Fort Bliss, Texas (link to the other photo). These photos are often used to illustrate Operation Paperclip.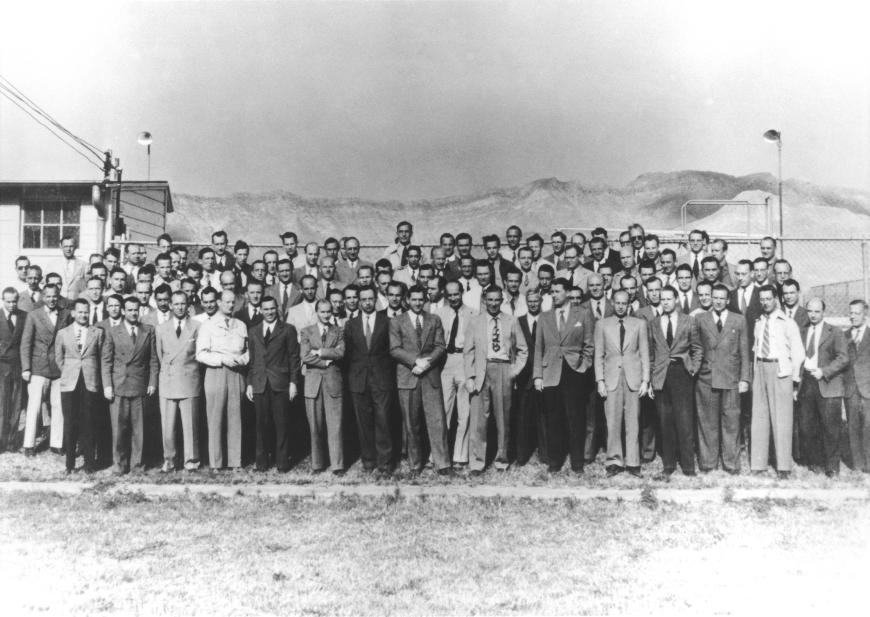 I also have an interactive page which may be used to locate Rocket Team members in this photo. Many of these people have commemorative bricks in the Wernher von Braun Team tribute at the U.S. Space & Rocket Center.
Operation Paperclip officially authorized 118 team members to come to the United States. The members of the group arrived at Fort Bliss, Texas, between September 1945 and early 1946. Wernher von Braun and seven others travelled by plane; the others came in groups of about 55 each by ship.
The members comprising the "Rocket Team" changed over time. Hans Lindenberg at Ft. Bliss on 13 February 1946 of complications of diabetes and is buried on the installation. Dr. Ernst Steinhoff was part of the team at Ft. Bliss, transferred to the Redstone Arsenal in Huntsville, Alabama, but left after a year or two to become the the Chief Scientist at Holloman AFB.
Other individual regarded as members of the Rocket Team were not among these initial 118. Wernher von Braun was able convince the Americans to add approximately 25 others who had worked in Peenemünde but who could not be located as the team left Germany. When von Braun returned to Germany in March 1947 to marry Maria, he was able to contact those (including Dr. Georg von Tiesenhausen, Dr. Oswald Lange, Willi Kuberg, and Herman Wagner) who had subsequently been located. Dr. Walter Haeussermann, still in Germany taking care of his ill wife, joined the team in 1948 as did Fritz Weber