Monaco Shaver Insert
Apollo 14 carried a wind-up shaver, allowing the astronauts to dry shave without shaving cream and a blade. There's mission footage of Alan Shepard shaving with one (he seems to be enjoying it!) and cleaning it (after Roosa's acrobatics), and then of Edgar Mitchell jokingly declining to use it but ultimately shaving with it.
The shaver was manufactured by Haverhill and marketed after the flight as the "Monaco shaver" (as it was apparently manufactured in the country of Monaco), billed as "the shaver that went to the Moon".
I acquired one of these shavers from an eBay auction, in its original box and with its original leatherette carrying pouch, Q&A booklet, and promotional insert.
The paper on which the insert was printed has yellowed: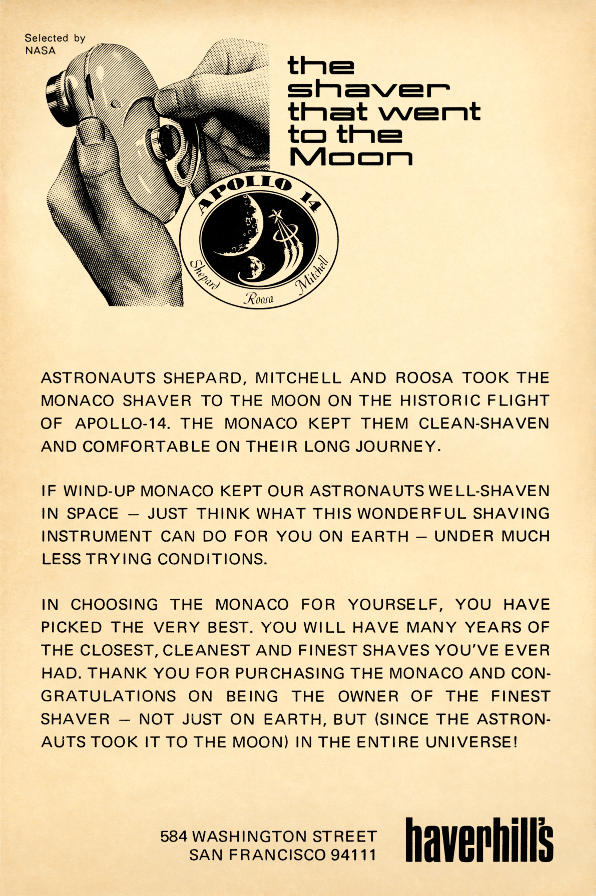 But I also cleaned up the insert, restoring it to what I imagine it must have looked like when it was new: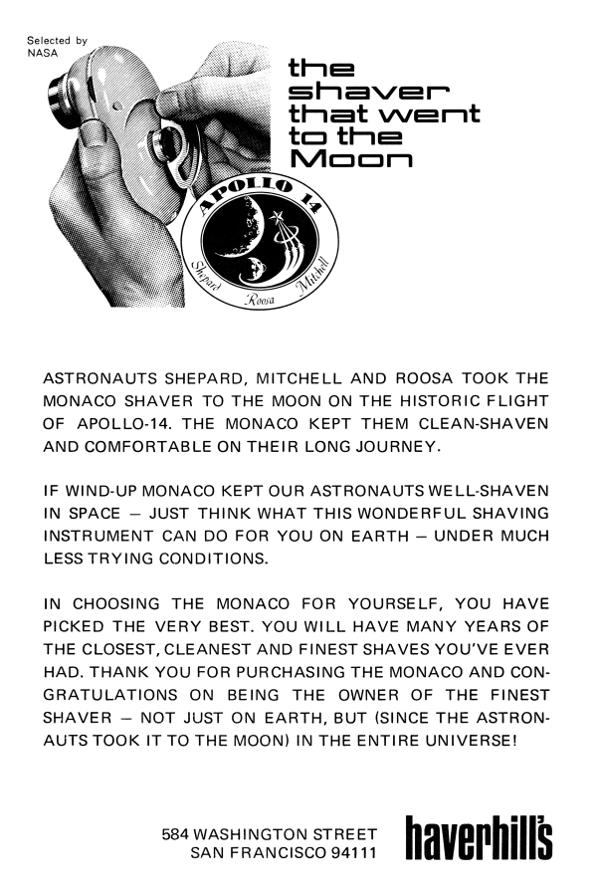 The insert reads
the shaver that went to the moon

Astronauts Shepard, Mitchell and Roosa took the Monaco shaver to the moon on the historic flight of Apollo 14. The Monaco kept them clean-shaven and comfortable on their long journey

If wind-up Monaco kept our astronauts well-shaven in space — just think what this wonder shaving instrument can do for you on earth — under much less trying conditions.

In choosing the Monaco for yourself, you have picked the very best. You will have many years of the closest, cleanest and finest shaves you've ever had. Thank you for purchasing the Monaco and congratulations on being the owner of the finest shaver — not just on Earth, but (since astronauts took it to the moon) in the entire universe!

584 Washington Street
San Francisco 94111

haverhill's