V-2 Cut-Aways
This page serves as a repository for cut-away diagrams and photos of the V-2/A-4.
This diagram shows a cut-away of the engine compartment. The instrumentation compartment, outlined by the "A-B-C-D" just aft of the warhead, is not cut away in this diagram, but the access panels are open on the V-2 at the Kansas Cosmosphere.

Here's a nice cut-away with call-outs:

Callouts:
Sprengladung 1t (1-Ton Explosive Charge)
Automatische Kreiselsteuerung (Automatic Gyro Control)
Leitstrahl-u. Funk-Kommandogeräte (Guidebeam and Radio Command Receivers)
Spiritus-Wasser Gemisch Behälter (Alcohol-Water Mixture Tank)
flüss. Sauerstoff-Behälter (Liquid Oxygen Tank)
Treibstoff Turbo-Pumpe (Fuel Turbopump)
Abdampf (Turbine [Steam] Exhaust)
Spiritus-Hauptventil (Main Alcohol Valve)
Luftruder (Aerodynamic Rudder)
Strahlruder (Graphite Rocket Engine Exhaust Vane)
Antenne (Antenna)
Antriebs-Ofen, 25,4t Schubkraft (Rocket Engine, 25.4 Tons of Thrust)
Sauerstoff-Hauptventil (Main Oxygen Valve)
T-Stoff-Dampfanlage f. Antrieb d. Treibstoff-Turbopumpe (Hydrogen Peroxide Steam Generator for Driving the Turbopumps)
T-Stoffbehälter (Hydrogen Peroxide Tank)
I pointed out how nice the cut-away V-2 diagram above was; the document's authors thought it was so nice that they decided to reuse it, not once, but twice!
Here the cut-away diagram is used to compare with the missile on the launcher platform: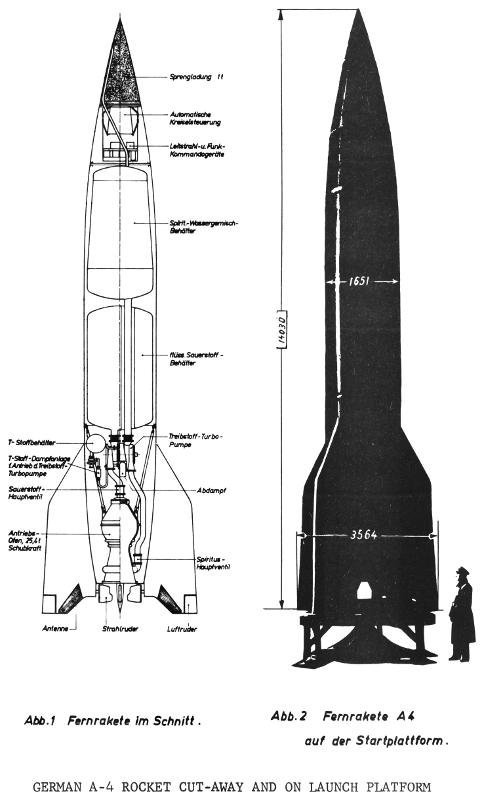 Back in the 1940s, the 200-mile range V-2 was considered a "Fernrakete", or "long-range" rocket, while today 200 miles barely qualifies as a "short-range" missile.
Here the cut-away diagram is used to compare The A-4 against its predecessors, the A-3 and the A-5: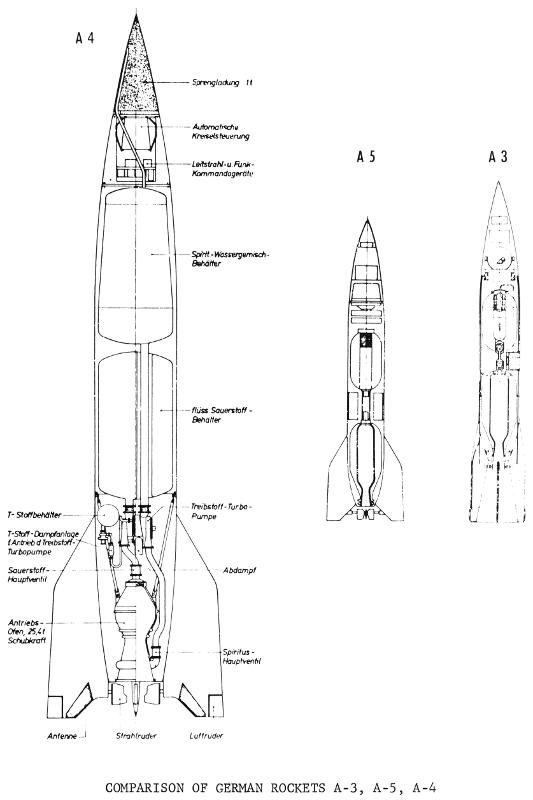 Here is a cut-away produced by the U.S. Army showing engine, fuel cells, guidance units, and warhead: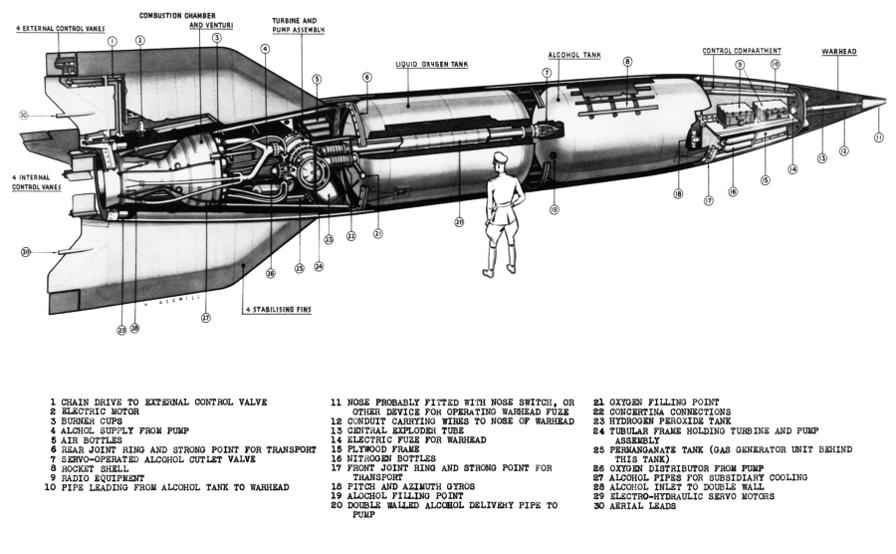 Thanks to Dr. Dieter M. Zube for translation assistance.