Project Mercury Redstone Flight Plan
Here's a Space Task Group diagram, dated June 10 1959, containing the Mercury-Redstone flight plan.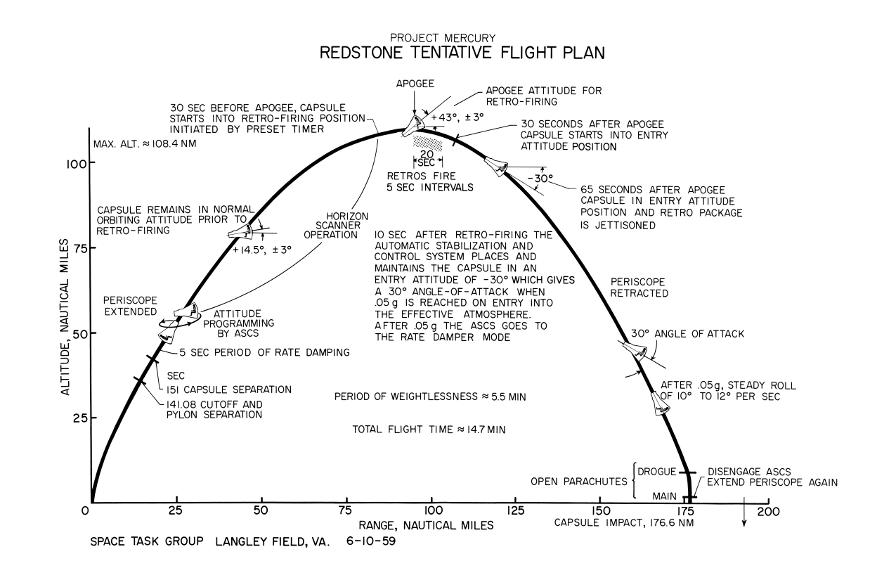 Major phases of the flight profile noted on the diagram include
Capsule separation (from booster)
Attitude programming by ASCS
Periscope extended
Capsule remains in normal orbiting attitude prior to retro-fire
30 sec before apogee, capsule starts into retro-firing position. Initiated by preset timer.
Apogee attitude for retro-fire
Retros fire, 5 sec intervals
10 seconds after retro-firing the automatic stabilization and control system places and maintains the capsule in an entry attitude of -30° which gives a 30° angle-of-attack when .05g is reached on entry into the effective atmosphere. After .05g the ASCS goes to the rate damper mode.
30 seconds after apogee capsule starts into entry attitude position
65 seconds after apogee capsule in entry attitude position and retro package is jettisoned
Periscope retracted
Open parachutes (drogue and main)
Disengage ASCS
Extend periscope again