Relocation of F-1 Engine Engineering Mockup EM-1
After Pratt & Whitney Rocketdyne's sale to GenCorp in mid-2013, the resulting Aerojet Rocketdyne decided to close the historic Rocketdyne plant on Canoga Ave. in Canoga Park, CA, moving its headquarters to its De Soto Ave. facility.
In 1979, on the 10th anniversary of the Apollo 11 moon landing, Rocketdyne emplaced an F-1 engine mockup outside its Canoga Ave. headquarters. According to Saturn,
The Engineering Mockup 1 (EM-1) high fidelity hard mock up is believed to be the same unit that was located on the shop floor at Rocketdyne during the period of F-1 design and manufacturing. It was used for configuration change fit ups and physical evaluations before installing the changes on a development engine for hot fire verification. . . The engine is on loan from the Smithsonian (A19760771000).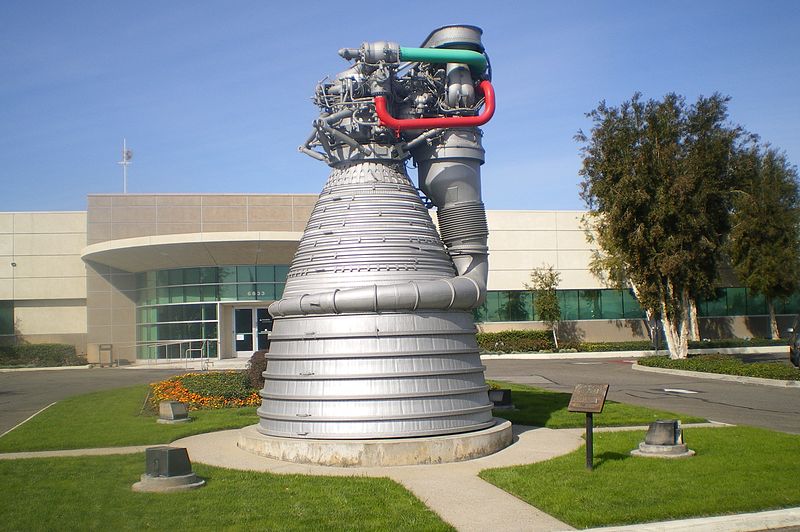 The plaque mounted at front right reads
F-1 Engine
Dedicated to
The employees of Rocketdyne
On the tenth Anniversary
Of man's first lunar landing
July 20, 1979
A cluster of five Rocketdyne-built
F-1 engines lifted the 363-foot-tall
Apollo vehicle from Earth,
Beginning man's journey
to the moon

As of late September, 2013, Aerojet Rocketdyne planned on moving EM-1 to the new headquarters building, located about 3½ miles away (although it appears that a slightly different route was used).
On October 1, 2013, Coast Machinery Movers, the firm chosen to perform the move, had removed the engine's nozzle extension and had begun lashing the nozzle extension and engine proper to a flatbed trailer in preparation for the relocation.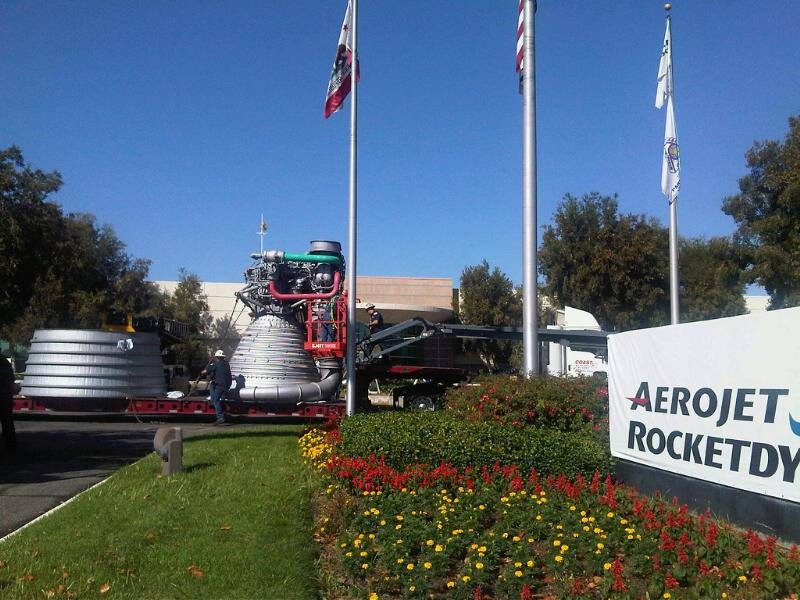 Early on the afternoon on October 2, the engine sat, staged behind a building, ready to begin its trip to its new home.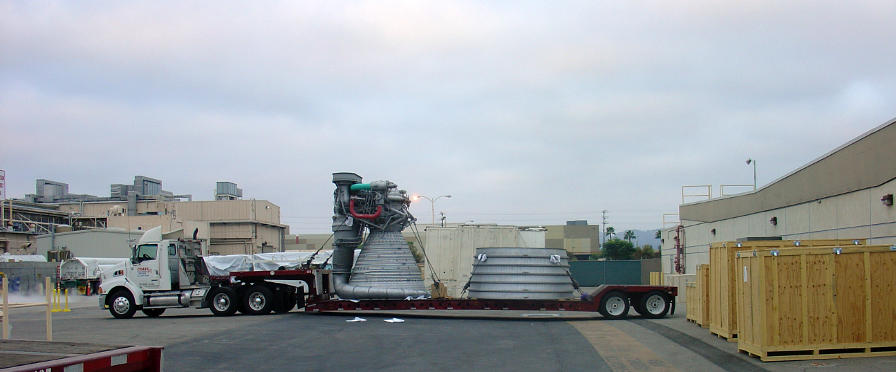 The move was scheduled to be executed between 8:00 pm and midnight on October 2.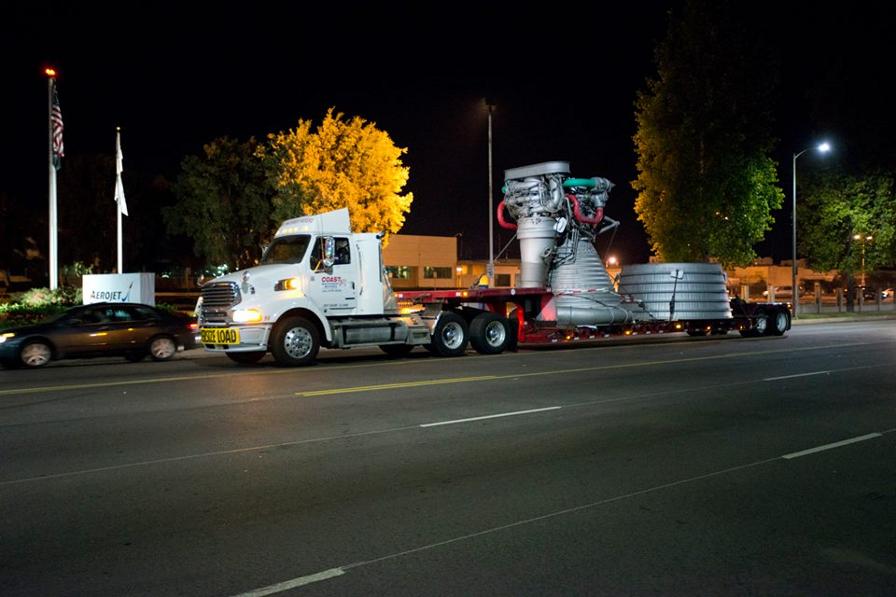 The truck travelled the short distance between the two facilities.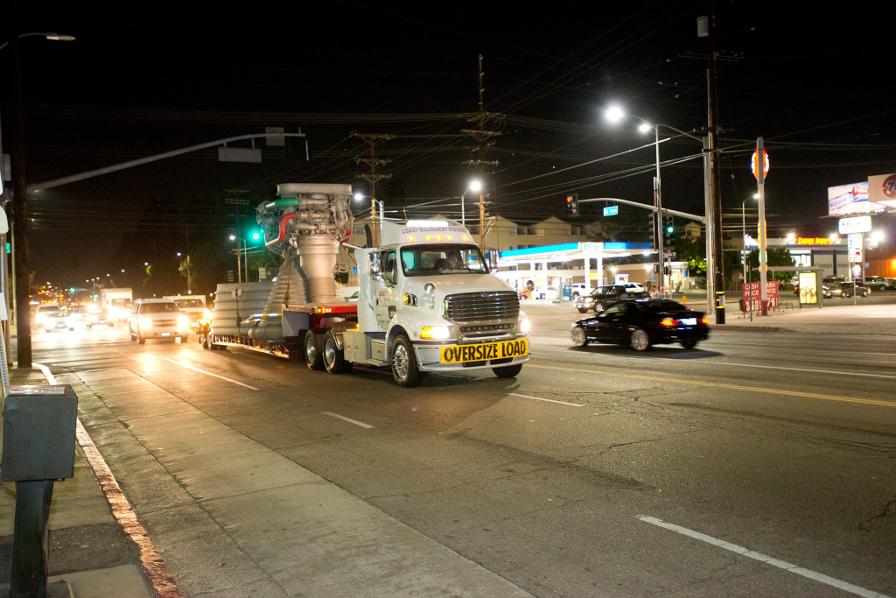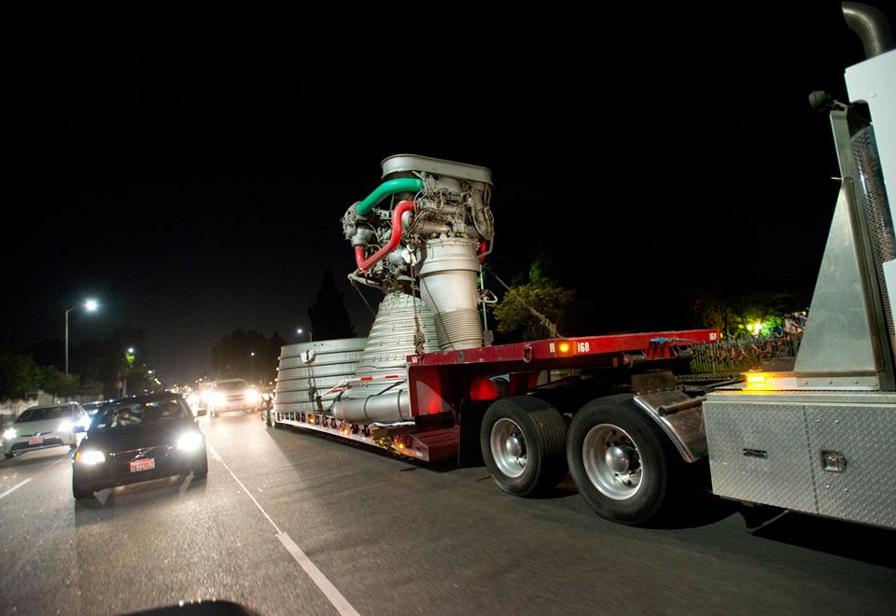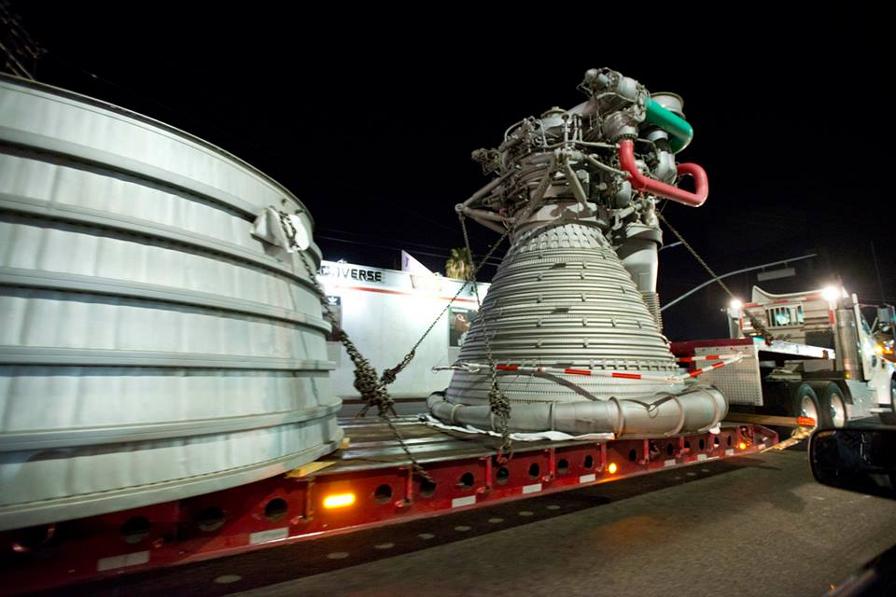 The next day day later (by the afternoon of October 3), EM-1 was installed at the De Soto facility: