Atlas 4B Launch
Atlas 4B was the second launch in the Atlas B research and development series of missiles. It was launched 2 August 1958 at LC-13 at the Atlantic Missile Range (Cape Canaveral), reaching an altitude of 560 miles and a range of 2,500 miles with a radio-inertial guidance system. The flight was successful. See this YouTube video regarding its launch.
Unlike the previous "A" series (which had only the two booster engines), the Atlas B was equipped with three engines, adding the center sustainer engine. Early missiles in the Atlas B series replaced the dummy nosecone and aerodynamic probe with its angle-of-attack sensor with a Mk. 2 reentry vehicle, which employed a heat sink concept (rather than the ablative coatings typical of later reentry vehicles).
The Air Force seems to have released a large number of photos of the Atlas 4B launch, as there are several photos of this launch which are readily available. A photo taken moments before the photo below, for example, made its way into a magazine ad in 1959.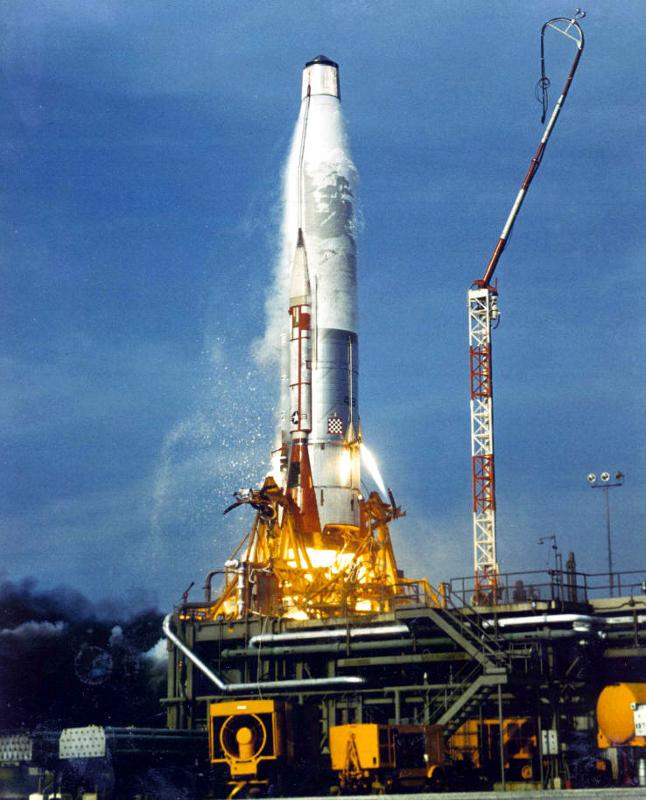 Nothing like an Intercontinental Ballistic Missile to sell insurance!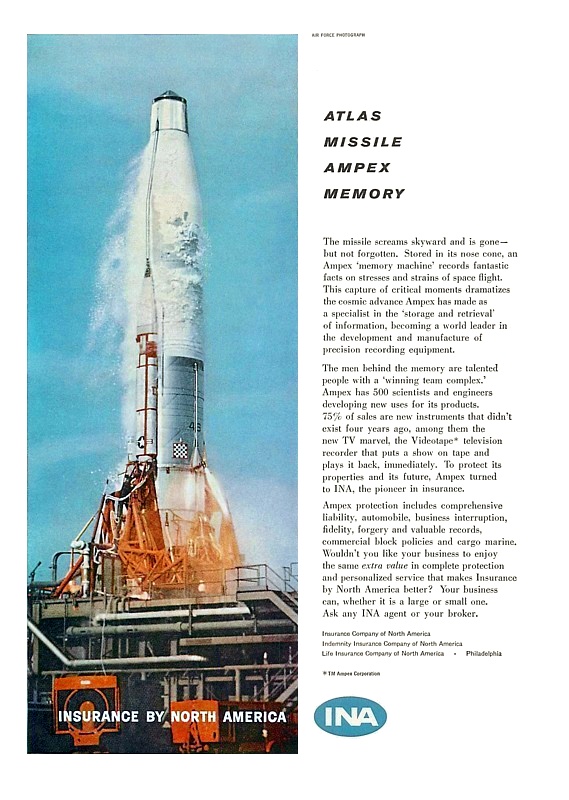 The magazine ad reads
Atlas Missile Ampex Memory

The missile screams skyward and is gone–but not forgotten. Stored in its nose cone, an Ampex 'memory machine' records fantastic facts on stresses and strains of space flight. This capture of critical moments dramatizes the cosmic advance Ampex has made as a specialist in the 'storage and retrieval' of information, becoming a world leader in the development and manufacture of precision recording equipment.

The men behind the memory are talented people with a 'winning team complex.' Ampex has 500 scientists and engineers developing new uses for its products. 75% of sales are new instruments that didn't exist four years ago, among them the new TV marvel, the Videotape* television recorder that puts a show on tape and plays it back, immediately. To protect its properties and its future, Ampex turned to INA, the pioneer in insurance.

Ampex protection includes comprehensive liability, automobile, business interruption, fidelity, forgery and valuable records, commercial block policies and cargo marine. Wouldn't you like your business to enjoy the same extra value in complete protection and personalized service that makes Insurance by North America better? Your business can, whether it is a large or small one. Ask any INA agent or your broker.

Insurance Company of North America
Indemnity Insurance Company of North America
Life Insurance Company of North America • Philadelphia

*TM Ampex Corporation
There's no indication as to whether an INA insurance policy would protect against either an errant ICBM or a nuclear warhead delivered by one ...
And one final photo of Atlas 4B as it leaves its launch pad: